I got married about a month ago and ever since, my mom has been insistent on buying us china. But my husband and I can't agree on what type. I want something nice and elegant while my husband (who is a chef) wants something modern and not traditionally shaped (so anything but circles).

I really don't mind so long as we find something nice, but all the modern plates I find are a bit boring. Do you know of some companies that have offbeat china sets? -Stevie
Stevie! I'm so glad you asked this question, as I JUST had an epiphany about how amazing china is after breaking yet ANOTHER one of my (cheaper) ceramic dinner plates while washing it. (Yup, I work out.) That's when I sat down at my computer and ordered more of my nice wedding china plates — those babies are TOUGH, sexy, and, as far as I'm concerned, worth every penny. I decided to never mess with anything but.
Yes, I, Offbeat Bride's Megan Finley, did something as traditional as register for china. But I went for a simple and modern pattern that matches all my funky home decor! So you've come to the right person to help you out.
One (yes, one) of my china patterns was New Wave Acapulco from Villeroy & Boch. I say "one of my china patterns" because, unlike your hubs, I'm not-so-much into the square dinner plates. But I AM a fan of their squared-off bowls, serving platters, and that rocking casserole dish.
But if this pattern is too loud, New Wave also comes in white AND with a fancy platinum accent.
Related Post
Hostess gift ideas: look past wine and go for handmade, locally-sourced, or unusual offerings
If wine just won't cut it for your next hostess gift, we have new ideas. Carnivorous plants? Pineapples? Oh my!
I accented that New Wave Acapulco with Villeroy & Boch's Dune Lines Collection. Aside from the fact that it has a beach-y look (and name) I love that each plate has different striations, so it's simple without being a snooze-fest. AND it's a pretty great compromise for those who want round and not-round dishes.
But your hubs wants "anything but circles" so how about Villeroy & Boch's Urban Nature collection. Check out that top plate aka the "fruit bridge"!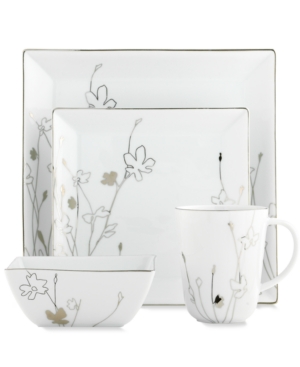 Charter Club's Platinum Silhouette Square Collection is accented with the coolest silver wildflowers! That's what I'm talkin' about — floral patterned china that doesn't make me wanna barf.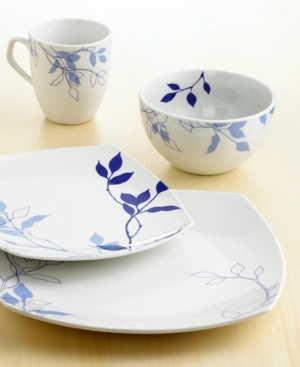 Mikasa's Autumn Frost set is an eclectic blend of softly squared and round shapes, with a fun blue nature-inspired pattern.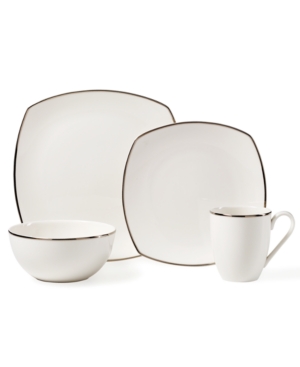 The Mikasa Cameo Platinum Square Collection is basic yet outstanding with its platinum border.
Now I'm throwing out a round-y for the anti-square crowd. I have been a fan of Lennox's Chirp Collection for a while now. No worries, it also comes in a square pattern. Plus, there's a red option. Ooh ahh.
Oh holy crap, I just discovered Villeroy & Boch's Flow collection, and now I'm sad that I didn't register for THESE dishes. Every single item in this collection blows my mind, from the plates with the cool peek, these insane salad bowls with handles, and this plate on plate action. BLARG, I love this!
Of course, you can always take your time and mix and match china patterns over time. Or register for different patterns at the same time and mix and match THAT way.
Now it's your turn. Homies, what are YOUR go-tos for funky china and tableware?